This blog of bots has been put on the back burner for a bit, but all for good reason. After 6 months of building and waiting for parts to arrive, I have finally completed building a Mendel Prusa 3D Printer. I've wanted one of these since I
writing my first article about them
. Do you know what this means? I can print what ever I want out of plastic. Go to Thingiverse.com and you'll find thousands of things you can have in your hands by simply downloading and printing. I've been designing a custom robot for over 5 years now with Solid Works, and I finally have the chance to see it built.
This guy printed his own robot hand
, so it may not be as much of a challenge.
Taking an engineering class I started earlier this simester and I brought my half way finished printer in. With my poor attendance I didn't have much of a chance of passing. I showed my teacher my printer and asked if I could use it for extra credit. His response- Finish that and I'll give you an A. Last week I presented it printing a simple calibration piece and the class loved it.
The beauty of this machine is printer itself is made from another printer- Hence the nick name Rep Rap or Rapid Replicator. All the black plastic parts you see below are PLA plastic printed by another printer just like this one. You can build one of your own for around $750. I found simple instructions to building a Prusa Mendel 3D Printer. I also found a friend to print the plastic parts for me and bought the chips and stepper motors from Ultimachine. All the threaded and smooth rods, bolts and nuts can be found at Mcmaster. I recommend buying 6' foot rods and cutting them down to the shorter lengths to save money. The next few blogs will include tips and tricks to building one of these yourself, so subscribe and keep posted.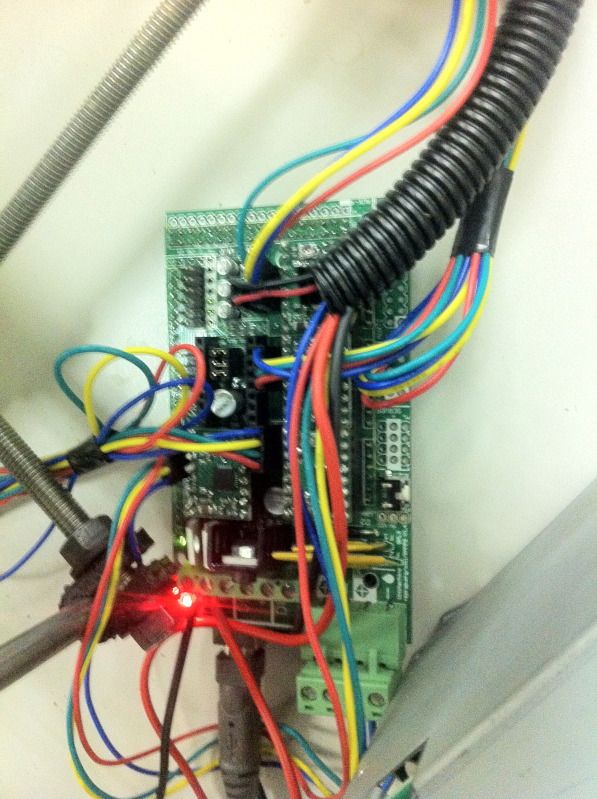 Ramps 1.4 with an Arduino board- The Electronics to control the Printer